In depth explanation about Toyota Forklifts
Toyota Forklifts We Provide In Malaysia
Toyota forklifts are the most popular and reliable types of forklifts in Malaysia known for their performance and durability. Here are all the types of Toyota forklifts we provide and everything you need to know about them. 
A forklift is a powered industrial truck used to lift and move materials. They are commonly used in warehouses, factories, construction sites, and other environments where heavy items need to be transported.
Forklifts have a lifting mechanism, called a fork, that is mounted on the front of the vehicle. The fork can be raised or lowered using hydraulic cylinders, and can be inserted underneath a pallet or other object to lift it off the ground. The forklift operator controls the movement of the forklift using a steering wheel and pedals, and can move the vehicle forward, backward, or sideways to position the fork under the load. The forklift is powered by an internal combustion engine or an electric motor.
There are many different types of forklifts, with varying lifting capacities and capabilities. Some are designed for use indoors, while others are built for outdoor use. They can be used to lift and transport a wide range of materials, including boxes, pallets, drums, and machinery.
The Types of Toyota Forklifts We Offer At Selka
Nowadays, there are many different types of forklift available in the market. However, we mainly provide the three main types of Toyota forklift across Malaysia. You can learn more about them so can choose the perfect forklift for your requirements.
Why did we choose Toyota for all our forklifts?
When it comes to choosing a forklift, there are many brands on the market to choose from. However after 20 years of experience in the  forklift industry, we choose to focus on Toyota as our main brand for all our forklifts. Here are some of the reasons why you should also consider going for Toyota:
1. Toyota forklifts are very high in quality
Toyota is known for manufacturing high-quality vehicles, and their forklifts are no different. Their products are built to last, so you can be sure that your investment will pay off in the long run.
2. Toyota offers a wide range of forklifts
No matter what type of business you have or what your specific needs are, Toyota likely has a forklift that will suit your needs perfectly. They offer a wide range of products, from electric to diesel-powered models, so you can find the perfect match for your business.
3. Toyota forklift spare parts are easier to obtain
In case your Toyota forklift breaks down, it is much more easier to get the spare parts to repair it compared to other brands of forklifts. The faster the repair job can be done, the better your production will run.
Toyota Diesel Forklifts In Malaysia
Diesel forklifts are one of the common types of forklifts in Malaysia. Toyota diesel forklifts are known for their power and performance, making them ideal for a variety of applications. Whether you need a forklift for your construction business or your warehouse, a diesel forklift is a great option.
Here is some more information about diesel forklifts to help you make your decision.
Pros and Cons for Toyota Diesel Forklifts
Toyota Diesel forklifts typically have a higher weight capacity than other types of forklifts, so they can handle heavier loads.



Diesel Forklift also tend to be more powerful, making them ideal for tougher tasks like moving pallets of heavy goods.



They're built to last, diesel forklifts usually have a longer lifespan than other models – which means you can get years of use out of them before needing to replace them.
Diesel forklifts do have some drawbacks. They can be more expensive than gas or electric models


Toyota Diesel Forklifts also require regular maintenance to keep them running properly


They  tend to produce more exhaust fumes
Suitable Areas To Use Toyota Diesel Forklifts
Diesel forklifts are suitable to be used for heavy  duty operations. It can be used for outdoor conditions and long hour usage. 
Toyota LPG Forklifts In Malaysia
With years of experience, Toyota has perfected the design and performance of its LPG forklifts. A gas forklift is a type of forklift that uses gasoline as its fuel.
Gasoline-powered forklifts are typically used for indoor & outdoor applications or in environments where electric power is not available.
Here are the pros and cons to help you learn more about Toyota LPG forklift.
Pros and Cons for Toyota LPG Forklifts
Toyota LPG forklifts are generally cheaper than Diesel of Electric forklifts, which make it the economical choice.


Toyota LPG trucks produce less to no smoke emission when being used.


This makes it suitable to be used indoors and  outdoors, which is typically ideal for Food and Environmental friendly companies.


LPG forklifts are easy to refuel, as the operator only needs to replace the LPG gas tank when it becomes empty.
LPG forklifts have higher fuel costs as the cost of LPG gas cylinders required to operate a forklift can be quite expensive.


Risk to injury is generally higher as gas leakage can be quite dangerous.


Long hours of usage can cause the forklift to overheat easily compared to diesel forklifts. 
Suitable Areas To Use Toyota LPG Forklifts
LPG forklifts are suitable for indoor and outdoor usage for environmental friendly and food companies which need heavier lifting and long hour forklift usage. 
Toyota Battery Forklifts In Malaysia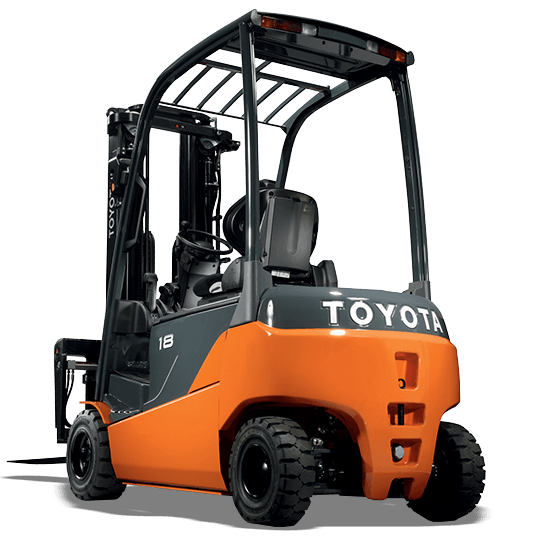 Toyota battery forklifts are more environmentally-friendly since they are powered by batteries instead of using petrol or diesel. A Toyota battery forklift is typically a forklift type that is used indoors or in other areas where emission of exhaust fumes would be unacceptable in Malaysia. 
Here is some more information about Toyota battery forklift in case you are looking for one.
Pros and Cons for Toyota Battery Forklifts
Pros of battery forklifts
Toyota Battery Forklifts are very quiet.


They also have no emissions which makes them very environmentally friendly.


Toyota battery forklifts require less maintenance than traditional gas- or diesel-powered forklifts
Cons of battery forklifts
Battery forklifts can be more expensive to purchase.


They also may not have the power or range of a gas or diesel forklift.


Their batteries need to be regularly charging, which can be a time-consuming and expensive process.
Suitable Areas To Use Toyota Battery Forklifts
Battery forklifts ideally should be used in indoor environments such as warehouses and factories. Suitable for strict environmental friendly and food companies with lesser hours of usage.
Types of Toyota Forklift Attachments
Forklift attachments are devices that can be attached to the forks of a forklift in order to change its function to perform a certain task. There are many forklift attachments available for Toyota Forklifts. Here is a list of all the common forklift attachments used in Malaysia.
Time To Create an Enquiry!
We hope that the information provided has given you the knowledge to select the perfect type of forklift suitable to your environment. Why wait? Head over to our inventory and select your preferred Toyota forklift in Malaysia now!
Looking for the best forklift services, well look no further because we offer top-notch forklift services which include
Forklift repairs and maintenance
Forklifts for Sale
Forklift Rental
Forklift Training
Reach truck Services
Hand pallets
Want To Learn More About Forklifts?
Let us know below and we will contact you as soon as possible!