Get Direct Japan Imported Toyota Reach Trucks For Sale Now !
Japan Imported Toyota Reach Trucks Available In Malaysia
Our Toyota reach trucks are a excellent solution for all your warehouse needs in Malaysia. If you are planning to purchase a reach truck, you may go to our inventory and select the reach trucks you need !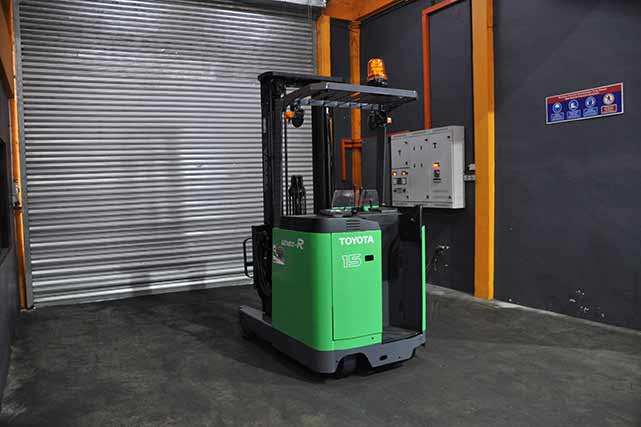 A reach truck is a type of battery powered industrial truck that is used to move materials and maneuver in tight spaces around a warehouse or storage facility.
It is equipped with a mast and an extendable arm that allows the operator to reach high shelves and load or unload items without having to climb up and down a ladder.
Toyota's common range of electric reach trucks includes the 7FBR15, 7FBR18, 7FBR20, and 7FBR25 models. These trucks have a lifting capacity of 1.5-2.5 tons and generally a maximum lifting height of 6-7 meters.
Benefits of choosing our imported reach trucks
Toyota Reach Truck Prices In Malaysia
Here is our japan imported Toyota reach trucks sold as it is condition. Our FBRS models allow you to lift higher with better stability.
Don't miss your chance !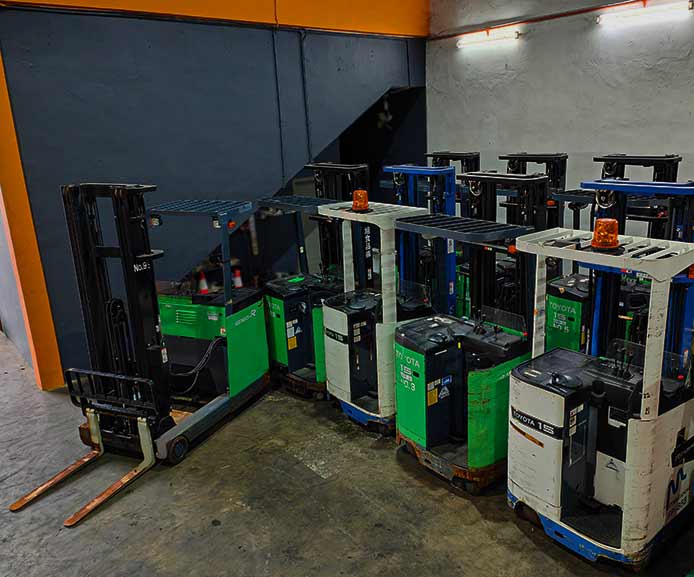 Why Selka's Reach Trucks are the perfect solution for your warehouse !
When it comes to warehouse operations, the proper equipment can make a world of difference. Your operations' success or failure literally depends on your equipment, and the better your equipment, the more productive and efficient your operations can be.
That's where we come in because we exclusively provide the finest reach trucks in Malaysia. Each of our imported reach trucks arrives in excellent condition, and before delivery, we conduct multiple thorough inspections and tests to guarantee our customers enjoy the best experience.
Our reach trucks boast numerous benefits, including an original 6m mast, the latest model from Japan, improved safety features, and more.
 So, Get Yours Today !!
Reach Truck vs forklift: what is the difference?
Reach trucks and forklifts are both types of industrial vehicles that are used for lifting and transporting heavy loads. However, there are some key differences between the two.
Reach trucks are typically smaller than forklifts and have a narrower wheelbase, making them more maneuverable in tight spaces.


Reach Trucks also have an extendable mast that allows them to reach high shelves and load pallets onto racks.


Forklifts, on the other hand, are larger and have a wider wheelbase, making them better suited for outdoor use.


Forklifts also have a shorter mast with a fixed beam, which is better for lifting heavy loads from the ground.


Reach trucks are driven from a standing position, whereas forklifts are driven from a seated position.


Reach trucks require less training for operators than forklifts do.
Reach Truck Rental Services
We provide top-quality reach trucks that can help you move stock and materials around your warehouse or premises with ease. Our trucks are available in a variety of sizes that will suit your every need, and our team will work with you to ensure that you get the perfect reach truck for the task.
In addition, we offer competitive rates on all of our rentals, so you can be sure that you're getting the best value for your money.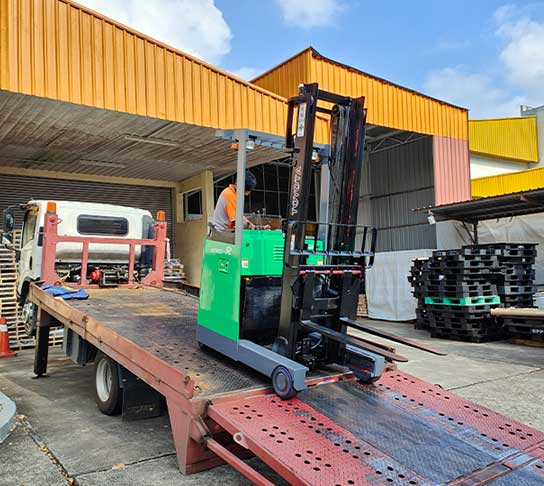 We also offer a wide variety of reach trucks for sale. We sell both new and used Toyota reach trucks, which allows our customers the flexibility to purchase a reach truck according to their budget.
Our reach trucks are available in a variety of lifting capacities and mast heights, so you can be sure to find the perfect match for your operation. 
You can also go to our inventory and select the reach truck you want from our available units.
Reach Truck Repair and Maintenance
At Selka, we provide reach truck repair and maintenance services to help keep your equipment running smoothly. Reach trucks are an important part of many businesses, so it's crucial to keep them in good working order.
Our team of experienced technicians can handle any repair or maintenance job, big or small. We're dedicated to providing the best possible service to our clients, making sure to reduce reach truck down time and boost their efficiency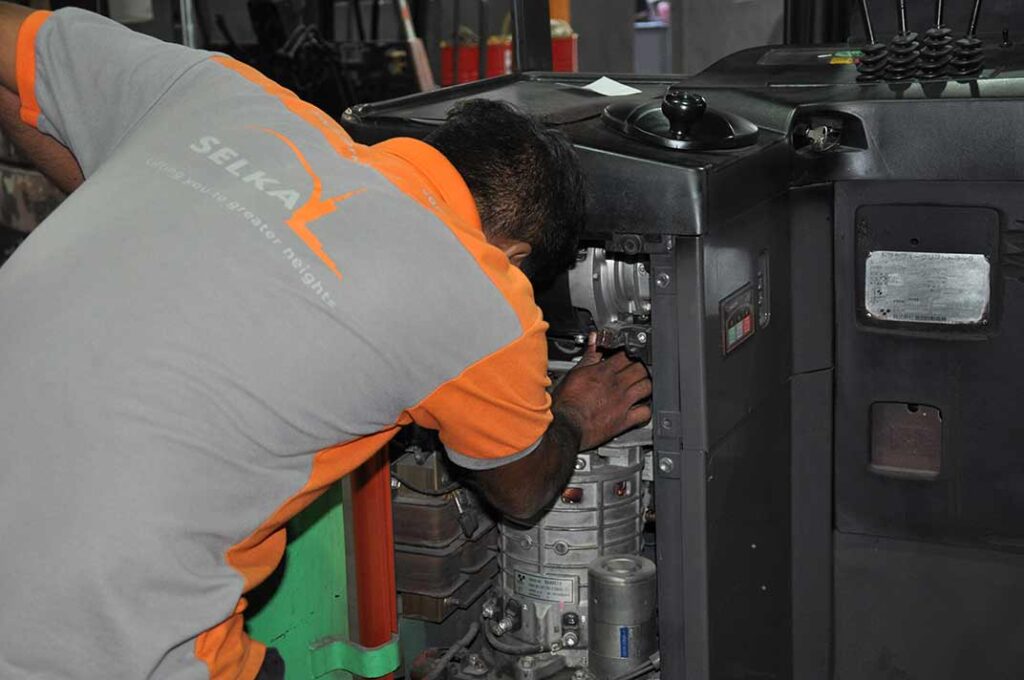 Get Your Own Original Japan Imported Reach Truck Today!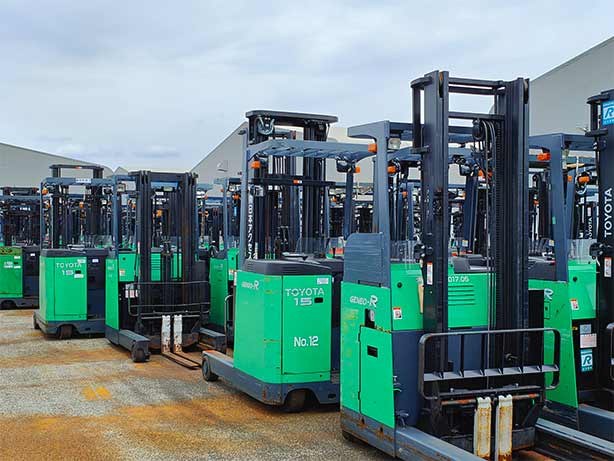 Here are some of the reach trucks that are available to purchase. Choose from our line-up of Japan imported reach trucks and boost the efficiency of your warehouse operations.
Units are limited so get yours now before they are sold out!
Areas where we provide our reach truck services
Johor Jaya
Johor Bahru
Pasir Gudang
Senai
Desa Cemerlang
Masai
Gelang Patah
Mount Austin
Kulai
Nusajaya
Tanjung Langsat
Frequently Asked Questions About Toyota Reach Trucks
Depending on your unique situation, either a forklift or a reach truck could be the best option. Reach trucks and forklifts are both powerful machines that can help with your requirements.
However, reach trucks are great when lifting and maneuvering around tight spaces in your warehouse, while forklifts provide more stability and power when transporting heavier items at greater distances. Ultimately, it comes down to what you need to do with your equipment – we offer both reach trucks and forklifts to tackle any task!
The height of the mast on a reach truck can vary depending on the model and manufacturer, but they typically range from 3 meter to 11 meter. Some models even have an extendable mast that can add an additional 1.5 meter or so of height.
The height of the mast is one of the key factors to consider when choosing a reach truck, as it will determine how high you can stack pallets and how much weight you can lift.
The cost of a reach truck will vary depending on the age, brand ,mast height, tonnage and other factors. After finalizing these factors, we can come up to an estimate of how much will your desired reach truck cost you. Send us an enquiry and we will reach out to you as fast as we can to help you with the costing.
Other Forklift Services We Provide
Looking for the best forklift services, well look no further because we offer top-notch forklift services which include
Forklift repairs and maintenance
Forklifts for Sale
Forklift Rental
Forklift Training
Hand pallets
Want more info about reach trucks?
Let us know and we will get back to you as fast as we can!