We Provide Johor's Best Hand Pallet Jack Repair Services.
Here at Selka Equipments, we provide the most reliable hand pallet jack repair services in Johor. If you are looking for quality hand pallet repair, we have got you covered. We provide repair services for all types of hand pallets, so you can be rest assured that your equipment will be fixed in no time.In case you are facing problems with your hand pallets, it is always better to repair them than to just buy a new hand pallet.  We know how important it is to have all your equipment in functional condition which includes hand pallets as well, so we will do everything we can to get yours back up and running as fast as possible.
The Types of Repair Services that we provide for hand pallets.
Here are some of the types of hand pallet problems that we can repair.
1. Hand Pallet Leaking Issue
2. Hand Pallet Lifting Problem
3. Wheel and Bearing Problems
4. Hand Pallet Chain Problems
Why is it so important to have good hand pallet repair services?
A good hand pallet repair service can help you keep your equipment running efficiently, lengthen its lifespan and most importantly save your money by avoiding costly repairs.
That's where we come in, we have been in this field for a long time. Our primary business is focusing on providing high quality forklift services which include forklift rental, forklift repair and more. So, when you compare hand pallets to forklifts, it is much more easier to handle and you can say we are an expert in that subject so you can be confident that your hand pallets are in good hands.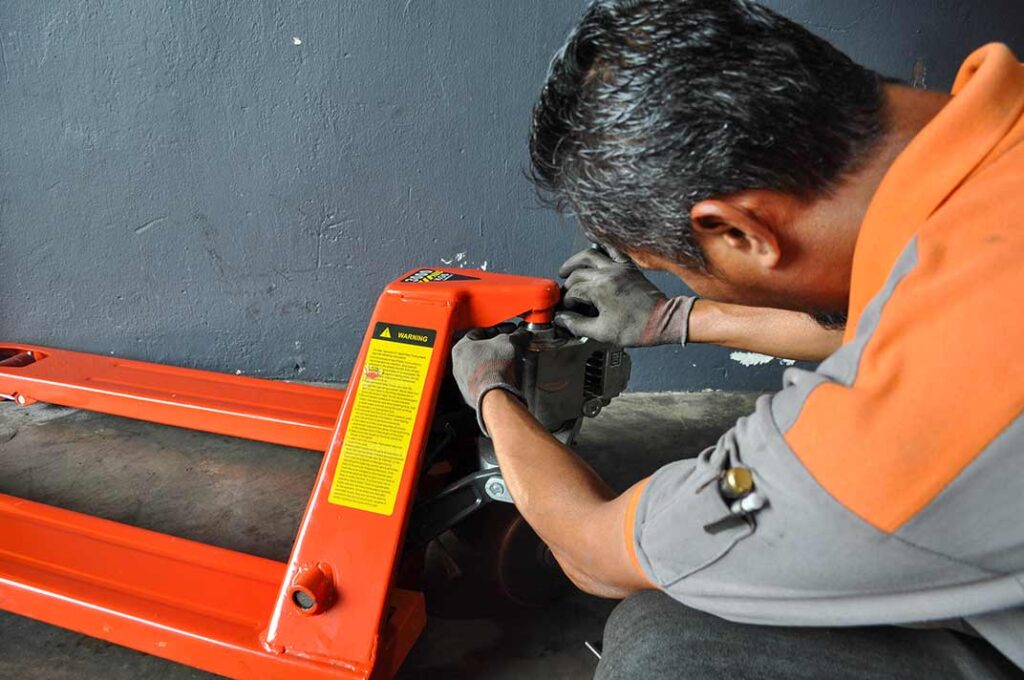 Benefits of Our Professional Hand Pallet Repair Services
Here are some of the benefits of choosing us as your repair service provider :
1. Expert and Professional Service.
Our technicians are highly trained and has the expertise to repair any of your hand pallet problems. We conduct ourselves in a professional manner to maintain a good relationship with all our customers.
2. Avoid Costly Mistakes.
Usually people try to repair their hand pallets themselves , which ends up costing them more in the long term. We help you avoid these costly mistakes by getting the job done the first time around.
3. Get back your hand pallet sooner.
We guarantee to repair your hand pallet as fast and efficient as possible. You can get back to using your equipment as soon as we are done repairing it.
Here are some of the common hand pallet problems in Malaysia.
Here are some of the common hand pallet problems that we have noticed in Malaysia. If you notice any of these problems with your hand pallet, make sure to contact us.
Hand pallet jacks use hydraulic fluid to lift and lower the load. If you notice a leaking problem with your hand pallet, it could be a sign of a damaged seal or there could be other problems with the hydraulic system
The handle is the main component that you use to operate the hand pallet jack. If it is broken or bent, it can cause your hand pallet to be difficult or almost impossible to use.
If the load is stuck and won't lift or lower, it could be due to a problem with the hydraulic system or a damaged lift mechanism. Wobbling or shaking: If the hand pallet jack shakes excessively when it is in use, it could be a problem with the wheels or other mechanical components.
How To Diagnose A Problem with Your Hand Pallet In Case Emergency
If your hand pallet isn't working properly and your service provider is taking too long. There are a few things you can check yourself before calling in a professional:
• Check the hydraulic fluid level:
A low hydraulic fluid level can be the cause of your hand pallet being unable to lift or lower your load. This can be due to a leaking problem. Check the fluid level and add more if necessary.
Check the wheels for signs of damage, and make sure they are properly inflated. If the wheels are damaged or worn, they may need to be replaced.
• Check for loose or damaged components:
Look for any loose bolts or other components, they could be causing the hand pallet jack to shake or wobble.
Practices that you can do to maintain your hand pallet lifespan.
Here are few good practices to perform to ensure that your hand pallets have a longer lifespan and to maintain their efficiency.
1. Regularly inspect your hand pallets.
Visually check for signs of wear and tear, such as cracked or chipped wheels, loose bolts, or damaged handles. If you notice any damage, have the pallet repaired or replaced as soon as possible.
2. Keep your hand pallets clean.
Dirt, dust, and debris overtime can build up on the wheels and other parts of the pallet, causing it to work less efficiently. In that case, make sure to clean with properly.
3. Store your hand pallets properly when not in use.
Store them in a dry, temperature-controlled environment. Avoid exposing them to extreme temperatures or moisture, which can cause damage.
4. Be careful when using your hand pallets.
Don't overload them or use them for tasks they're not designed for. Doing so could cause serious damage that will require costly repairs or replacement. Only lift loads that are within the lifting capacity to not cause a major breakdown.
Our Hand pallet repair services can be a great way to get your equipment back into working order and keep it running smoothly in Johor. Whether you need minor repairs or complete replacements, our services will help you out and save you money in the long run. With experienced and professional technicians that understand your needs, they are sure to provide a stress-free experience while ensuring that your hand pallets are repaired correctly. So, if you're looking for reliable hand pallet repair services in Johor, look no further!
Other Services We Provide
Other than hand pallet repairs, we also provide a wide variety of forklift services as well.
If you have any other questions, let us know below.